School Performance (発表会)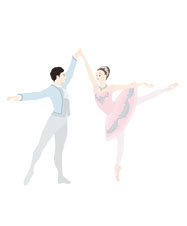 Our school organizes performance around every 2 years which enable our students to gain experience on stage.
Other than offering students valuable performing opportunities and also let parents share the achievements of their children.
2年に1回のペースで開催いたします。(開催時期はその年の状況により変更します。)舞台で踊ることを本来の目的としておりますので、小さなお子様から大人の方まで出演します。ただし強制参加ではございません。
R.A.D. Examination

The Royal Academy of Dance is an international dance education and training organization that sets global standards for exams in classical ballet.
To maintain the quality of our students, our school adopts the Royal Academy of Dance's Examination System. Students can be confident of receiving a comprehensive, well-structured and relevant education in classical ballet. They can expect to be taught according to safe teaching principles and evaluated through progressively built and graded examinations.
イギリスのロイヤルバレエスクールが考案した進級試験に挑戦します。
※希望者のみの受講及び受験となります。


Summer intensive course (夏期講習)

A 8-day intensive summer course covers Ballet, Jazz, Pointe and stretching which held on every year.
Students will enjoy themselves, displaying a wonderful sense of growth in both knowledge and confident during the course.
8月下旬に1週間の集中レッスンがございます。
Competition (コンクール)

希望者のみコンクールに出場することができます